As a pediatric nurse with six years of experience, including over three years of travel nursing, I have experienced pediatrics in a variety of settings. What I've learned is there is always chaos, often celebration, lots of toys, and tons of apple juice. I've heard pediatrics referred to as the "Disneyland" of nursing.
What is Pediatric Nursing?
Pediatric nursing is the care of patients ranging from the neonate to young adults. This type of nursing requires an understanding of developmentally appropriate interventions for each age group: neonate, infant, toddler, preschooler, school age, adolescent, and young adult. Like most nursing specialties, it is both challenging and rewarding. It requires holistic, family-centered care and excellent communication skills.
Where do Pediatric Nurses Work?
Pediatric nurses work in a variety of settings. These include, (but are not limited to), acute care hospitals, long-term care facilities, schools, outpatient clinics, and home healthcare.
Working mostly in hospitals, I've found not all pediatric hospitals are created equally. There is a difference between working in a stand-alone children's hospital, a children's hospital attached to an adult hospital, and a pediatric floor inside an adult hospital.
Children's hospitals are usually divided into system-specific floors (i.e.: Orthopedic floor, Respiratory floor, Transplant floor, Pediatric Intensive Care Unit, etc.) or by age group (Toddler Unit, Adolescent Unit, etc.). Stand-alone children's hospitals usually have more specialties available and are able to treat rare or more serious conditions. The medical teams, such as surgery, are well-versed in pediatrics.
Pediatric hospitals connected with an adult hospital may be smaller, and potentially divided into several different floors, such as Pediatric Intensive Care Unit, Pediatric Oncology, Pediatric Floor, and Neonatal Intensive Care Unit. The big difference between them and a stand-alone is shared resources with the adult hospital system. Rarely will you take care of an adult patient. However, during the first wave of COVID, the PICU at my hospital became a COVID unit. Exceptions happen in global pandemics!
Finally, pediatric floors inside adult hospitals are the smallest, see every type of patient, and usually have a separate NICU. My first job as a pediatric nurse was on a thirty-bed pediatric unit with an attached PICU. The closest children's hospital was a three-hour drive away in any direction, so we saw every type of patient. It was a fantastic learning experience.
Educational Requirements and Experience
In order to become a pediatric nurse, the first step is to obtain your RN (Registered Nurse) license. Having your BSN (Bachelor of Science in Nursing) is a plus, as many children's hospitals now require it. Most hospitals and workplaces require BLS (Basic Life Support) and PALS (Pediatric Advanced Life Support) certifications. For certain positions, usually PICU and NICU jobs, ACLS (Advanced Cardiac Life Support) and NRP (Neonatal Resuscitation Program) certifications may be required as well.
It is favorable to become CPN (Certified Pediatric Nurse) certified, as it is extremely educational. APHON (Association of Pediatric Hematology/Oncology Nursing) is the chemotherapy course for pediatric oncology. I obtained my CPN after six months of being a pediatric nurse, and it helped me conceptualize what to expect for disease processes in different age groups. Most recently, I became APHON certified, adding to my knowledge base and skill set—I can now administer chemotherapy. Continuing Education hours are required for RN renewal, CPN renewal, and other specialty certifications.
Characteristics Employers Seek
The most important skills a pediatric nurse should have include problem solving, critical thinking, prioritization, and flexibility. Employers look for these skills, in addition to family-oriented and friendly nurses when hiring. Having experience in two or more areas in pediatrics is rare but also sought-after. I have experience in Pediatrics, Pediatric Step Down, PICU, NICU, and Pediatric Oncology. Though experience as a peds nurse is helpful, as it builds confidence and skill, any kind of nursing experience on an acute care floor is beneficial. Being detail-oriented, well-versed in age-appropriate interventions, and promoting a safe environment are key to succeeding as a pediatric nurse. A willingness to learn and ask questions, regardless of experience level, is essential.
Children are vulnerable populations, and therefore need more care, consideration, and advocacy. This means clearly communicating to the healthcare team the needs and assessment of the patient. Pediatric nursing requires efficient responses to solutions in real time, as children decompensate quickly. As a pediatric nurse, you will be the patient's biggest advocate.
Bio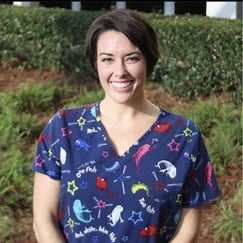 Katherine Taibl, RN, BSN, CPN, is a pediatric float nurse who recently settled in Boston after three years of travel nursing. After six years of nursing experience, her favorite place to work is still the pediatric floor and pediatric step-down. She is actively becoming involved at her new hospital through anti-racist committees and participating in educational opportunities. Katherine's pronouns are she/they.