What's Behind the Quarterly $3000 Lighthouse Award for Nurses?
From a distance it can seem like there is a big divide between those on the frontline delivering care to patients, and companies building tools like LiquidCompass to help simplify and optimize the way healthcare workers and employers find one another. In reality, a closer look reveals something very different.
Being on the cutting edge of innovation to bring new solutions to healthcare takes more than excellent technical talent, deep understanding of needs, business savvy and guts - It would never happen without the passion of people who want to make a difference. In the case of LiquidCompass, that passion drives everything we do.
Led by a highly experienced team of Healthcare, Nursing, Human Resources and Technology Leaders, the teams who work on LiquidCompass are focused on the challenges and opportunities of the healthcare workforce. Anyone close to healthcare knows, sometimes what we witness and the things we are exposed to can be overwhelming - we all wish we could do more. At LiquidCompass we decided to turn that wish into action by launching the Lighthouse Awards.
We launched the first of these quarterly Awards with a focus on Registered Nurses and Nursing Students for the third quarter of 2022. Through some of the most difficult times in recent history, we worked closely with Nurses and Hospitals to connect Nurses with the places their skills were needed most. As a result, we have seen the toll that the last few years has taken on healthcare workers. We chose RNs and RN students as the first group in recognition of everything they have gone through and all they do in caring for others, and to support the next generation of Nurses whose skills are so desperately needed.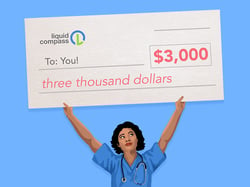 By offering RNs a $3,000 Lighthouse Award each quarter, it is our intention to bring some much-deserved joy while providing resources to:
Invest in self-care
Make a dent in student loans
Help the advancement of a Nurse's career
But we are not stopping there. We are getting ready to launch additional Lighthouse awards for other segments of the healthcare workforce as well as recognizing outstanding Faculty members who are shaping the future of healthcare.
Learn more about the Lighthouse Award for RNs and RN Students here.